Take action for eating better
ARECO continues supporting Make.org to take action for eating better
In 2019, a large national consultation focusing on "how can we enable everyone
to eat better?" was launched in France. Gathering 460,000 participants, this consultation reflects the growing demand related to healthy eating throughout the country. ARECO, a pioneer in food transition and partner of the Major Cause "Acting to Eat Better" launched by Make.org last year, continues supporting this civic platform by contributing to the development and implementation of eight actions, which aim at promoting clean eating and food sustainability on a national scale.
On February 26, 2020, and as part of the Paris International Agricultural Show, Make.org revealed the eight impactful actions resulting from the wills of citizens that will be implemented over the next two years throughout France. The announcement was made alongside ARECO at the booth of INRAE (National Research Institute for Agriculture, Food and the Environment), which is also a partner of the Major Cause "Acting to Eat Better". Those strong awareness-raising actions reflect the growing concerns of consumers and the current social and environmental challenges, such as the fight against food waste and plastics,
the valorization of local agricultural work and products, as well as the search for meaning, taste and quality.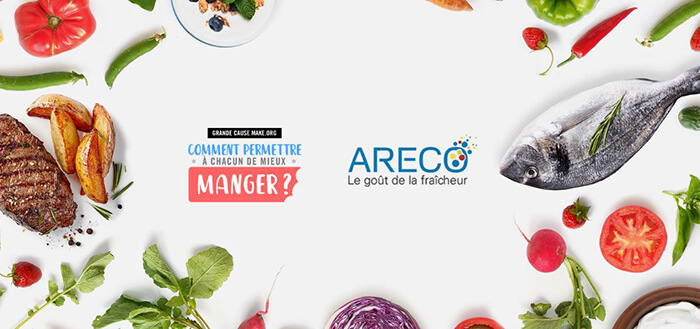 In a co-construction approach with more than fifty stakeholders committed to food transition and environmental protection, including Système U, Danone, Bonduelle and Fleury Michon, ARECO joined dedicated workshops to develop the eight following impactful actions:
« Agricultural and Food Heritage National Day »: enable 1 million visits to farm and smaller processing sites to reconnect the large public with the French agricultural and food heritage.
« Agricultural Youth Mission »: allow 200,000 young people to assist farmers and food aid beneficiaries by structuring the various existing French systems (Universal National Service, Civic Service, etc.) around a specific sector.
« Agri'Don »: offer 1 million tons of unsold agricultural products to those in greatest need.
« Local Sales Platform »: sustainably increase by 40% the local sales
of more than 50,000 agricultural producers by connecting them with private and public buyers directly to make local products available to everyone.
« Less Plastic Collective »: collectively reduce the use of plastics at all stages of the food value chain by bringing together all involved stakeholders.
« Easy Bulk »: multiply by 10 the number of products sold in bulk to allow consumers to shop as much as possible without any single-use packaging in their regular local supermarket.
« I Learn How to Snack »: support more than 1 million young people in learning about healthy and responsible eating during a specific school period.
« Season Chefs »:  promote a seasonal cuisine through a large audience TV show to change the eating habits of 15 million French people.
Supervised by Make.org, those actions supporting healthy eating and environmental protection will be implemented over the next years throughout France. ARECO will continue to provide its support, in particular by assisting the roll-out of the two actions "Less Plastic Collective" and "Easy Bulk", which aim at reducing the use of plastics on a national scale.
For additional information about Make.org and the Major Cause #ACTINGTOEATBETTER, please click here.
To learn more about our commitments and history, we invite you to visit our website or contact us.